Hi, Im Vicky....new to this board...just about 1 week in to phase one and feeling great. Im looking forward to success on "The Beach".
This is an awesome board with lots and lots of encouragement and inspiration, but I have to say that this particular thread has touched me beyond words. The courage it takes to post these pics is just unbelievable, and I can't believe that I am about to do it myself! Like a lot of you, most of the pics taken of me in the last couple of years have been headshots, and I rarely check my look in a full length mirror. Hell, even if I do, I usually have myself draped in sweats and big shirts, so....needless to say, looking at these pictures of myself (taken this a.m.) ripped the lid off of the denial.
One of my biggest goals is to fit into a pair of levi's and BE COMFORTABLE, so I chose to pull on my first "goal jeans" (and these are my former "fat pants", for God Sakes!)
I truly admire the ladies here who have swallowed their pride to post pics here to help themselves and others...I want to be a part of THAT kind of sacrifice, THAT kind of inspiration.....so here goes:
This is me today. I started at 180lbs a week ago (Im 5'4):
And yet another view: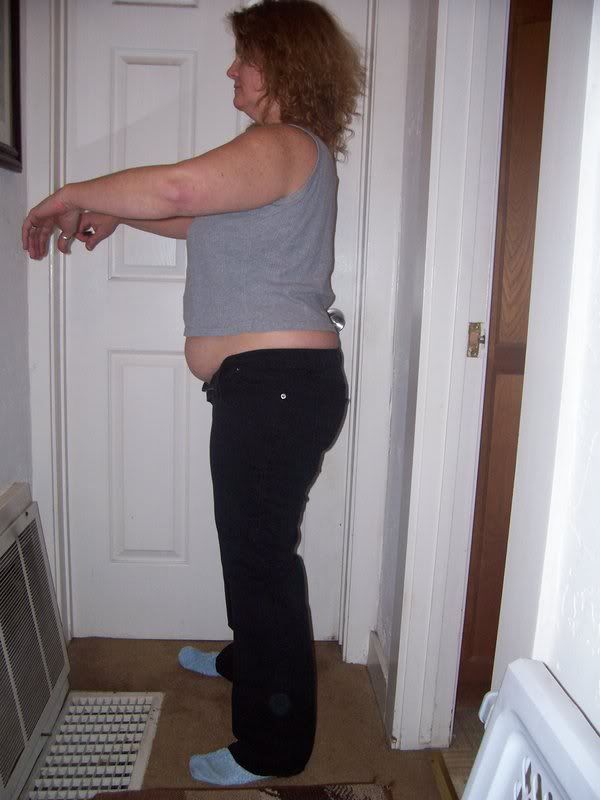 Anyway....thats it for now...as painful as it is, it is also liberating in a really weird way. Can't wait for "progress pics" in 3 months!!